Koshe Poke is a kosher poke restaurant located on 43 East 34 Street.
Opening hours:
Monday: 11am – 10pm
Tuesday: 11am – 10pm
Wednesday: 11am – 10pm
Thursday: 11am – 10pm
Friday: 11am – 4pm
Saturday: Closed
Sunday: 11am – 10pm
Contact:
Phone: (212) 725-3179
Email: koshepoke@gmail.com
What exactly is poke? Simply put, poke is a fish salad. It's an Hawaiian dish that combines raw fish, vegetables and soy sauce. Remind you of anything? Yep, poke is often called Hawaii's version of sushi. Like the Japanese dish, the fish in poke is traditionally served raw. However, in the many poke restaurants that have popped up around NYC, grilled salmon and grilled tuna are also on the menu.
You don't need to be a nutritionist to figure out that a dish made up of mostly fish and vegetables makes for a healthy lunch option. Fish is one of the best sources of omega-3, so it's a smart choice in that regard. And if you choose brown over white rice, you're getting the fiber you need to see you through the day.
At Koshe Poke we're all about building the meal around your tastes. 50 choices, 200,000 combinations, for the one meal unique to you. Pick a base, protein, add-ins, sauces, toppings, crispies… And you're all set!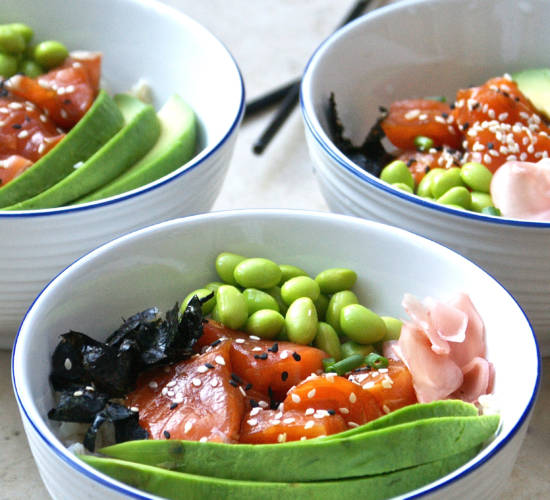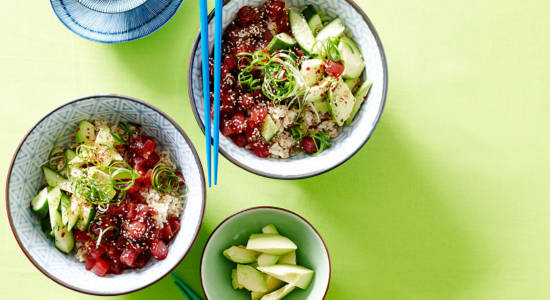 6 STEPS TO THE PERFECT POKE

Pick 1
Pick the style that takes your fancy to build upon.
Bowl: Brown rice | White rice | Quinoa
Burrito: White rice & seaweed
Salad: Romaine | Spinach | Kale
#2 THE PROTEIN

Pick 1
Add $2 for each additional choice
Go for the fish or make yours vegetarian.
Tuna | Salmon | Yellow tail | Surimi | Grilled tuna | Grilled salmon | Tofu | Egg
#3 THE ADD-INS

Pick 6
Choosing the right fillings can take your poke to the next level of deliciousness. Choose wisely.
Carrot | Cucumber | Avocado | Sweet corn | Sweet onion | Edamame | Diced mango | Scallion | Hearts of palm | Mandarin orange | Cherry tomato | Mushroom | Sweet potato
#4 THE SAUCES

Pick 1
Your meal isn't complete without a slosh of your favorite sauce.
Hawaiian salt | Ponzu | Sriracha aioli | Wasabi aioli | Spicy ginger | Mild ginger | Sweet chili

A delicious optional extra, if you fancy it.
Masago | Seaweed salad | Wasabi | Ginger


Pick 2
Add $2 for each additional choice
Add a sprinkle to finish off your creation.
Sesame seeds | Dry noodles | Crispy onions | Dried cilantro | Macadamia nuts | Walnuts | Sunflower seeds | Pine nuts | Pecans | Craisins | Raisins | Cashews